Design

Process

We use the process that will deliver your project more efficiently and flawless.
Planning stage
Gather content
Plan Structure
Design
Testing
Live
Pixel perfect PSD to HTML & Sketch/XD to HTML conversion that works for all devices
Whenever you want to present your design on the web it needs to be converted into the HTML. The finest html designers in Australia to get responsive & seo friendly website.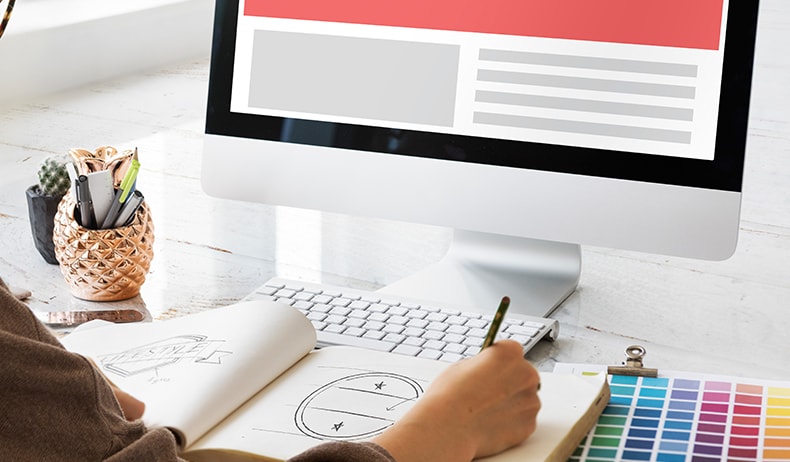 Why PSD to HTML conversion will be the best approach?
What is PSD?
PSD is a Photoshop Document which includes image files that support several filters, pictures, objects, text, and vector paths. This file is used to create custom designs after the conversion process. To get it done, open the image file and start editing. But conversion from PSD to Magento or any other platform might be complex. In that case, you must hire experts who specialize in PSD to HTML conversion and WordPress conversion.
Great Visibility
A lot of entrepreneurs may want improved visibility on the web and they need to switch to WordPress. It is the most common CMS platform and gets huge attention when compared to CMS. If you really want global exposure, WordPress is the best solution to improve your online presence.
Authentication
Make sure the developers build W3C compliant websites when looking for PSD to mobile sites conversion. They should have skill-sets to give an outstanding and error-free code and responsive designs. This conversion provides semantic and authentic code to build a website. You can also place the content in right position. This way, an authentic website can improve sales and attract your target audience.
E-commerce Integration
As WordPress is available with different e-commerce plugins, it smoothly supports various payment gateways to manage catalogs and orders. So, you can easily achieve your online selling goal. You can enhance your e-commerce website with various modules and use different tools. Another great advantage is its SSL security check up.
Why PSD to WordPress Conversion is Widespread?
These days, migration from PSD to responsive website is the latest trend in website development. Because of increasing demand for WordPress, the trend of PSD to WordPress conversion keeps on rising. Today, every online business wants to stand out with attractive and creative website for strong online presence.
Why Should You Look for PSD to Magento Conversion?
PSD to Magento conversion is conducted by web designers using Adobe Photoshop. You can have the most user-friendly and unique website with this conversion to increase the visibility of your site on the web. The designers can easily remove or add content and image layers with PSD file. They are flexible enough to change image quality.
Professional Conversion Services Provider
Are you looking for the best Photoshop to HTML conversion services in Australia? Then you landed in the right place! Our company provide following services:
PSD to HTML Services
PSD to HTML Responsive Conversion Services
Custom PSD Template Designs
PSD to WordPress Conversion Services
PSD to HTML Web Design Services
Hire the Best In-class PSD to HTML Development Company Now!
We are a reputed company capable to design PSD to HTML website customized as per your choice. Brainstream leads in providing PSD conversion services by performing HTML responsive coding solutions to client's specific requirements.
Photoshop to HTML Conversion Services Sydney
We convert well-designed PSD into exceptional HTML website with standard design principles while delivering an effective outcome. Our React Native team also focuses on other issues if your website has any.
W3C Validation
We utilize proper methodologies ensuring that the website meets the World Wide Web (WWW) Consortium standards. The PSD to HTML services by Brainstream also detect the errors using different tools and does work on them for a better user experience which helps your website's traffic.
Fully Functional PSD to WordPress Conversion Services
Converting your design with our Photoshop to WordPress conversion services helps you to get fully functional site which is easily manageable from the backend. Your website will convert PSD to WordPress in no time with the help of our professional web designers.
Load Speed Optimization
Brainstream, being best WordPress Conversion Company in Sydney, always checks for the minute details which helps the website to improve in all aspects. With lightweight plugins, compressed files, and minified CSS, we help in optimizing the load speed of online website helping the visitors search or browse faster.
Cross-Browser Compatibility
Our PSD to HTML conversion services Sydney ensure cross-browser compatibility and responsiveness on various devices. With reliable and quality services, we create responsive web designs that work well on all devices.
SEO Optimization
WordPress is the best CMS currently and we will help client's website to convert PSD to WordPress ensuring visibility in all search engines. Our digital marketing team works closely with designing team to get the best output for our clients and get the traffic increased on their website.
An Ideal Choice to Convert PSD to WordPress
For the better and improved performance of any online business, the optimization of the website is indeed necessary. A highly Optimized website outperforms the competitor on every measure. Brainstream helps the Photoshop designs to convert into a better and responsive HTML website. Many companies offering PSD to HTML website conversion are available in the market. But, our PSD to HTML conversion services Sydney is an ideal choice for a highly optimized website. Looking for the Same? Get in touch with us now.
Book your free consultation
Why Brainstream's PSD to HTML Conversion Services?.
Ultra-Rapid WordPress Website
While converting PSD to WordPress or HTML, our team ensures you a better web page speed which results in fast loading and user experience. Our professionals make your website run at a jet speed! The Photoshop to WordPress conversion services by Brainstream makes website lively and unique. If you are looking for an ultra-rapid WordPress website then contact us right now!
Easy-to-use Dashboards
Not a drop of sweat would be found while using the dashboards our professionals create! We set up all the code and make it easy for you to ensure you would work without a single line of code.
After-sales Service
We also provide support for a while once you go live with your project. We fix a bug immediately whenever it arises during the ongoing process. In other words, we will always be engaged with you during this journey.
Maintenance and Support
We provide round the clock and 365 Day support, which will help you to run your website smoothly. We have the best support staff and bug fixer experts who fix your bug within the very short time.
Affordable Services
Our Photoshop to HTML conversion services Sydney are so affordable that anyone can get their work done without a thought. We often run offers to make the services of our PSD to HTML Development Company easily available to the small and medium scale industries.
Inbound Marketing
We work on the website structure from the beginning of the project itself. The websites that we will be going to build are fully responsive and SEO friendly which attracts more visitors. We also provide tools like email marketing and many more.
An user-centric and user engaging designs ever.
We will give shape to your corporate Branding with most creative and finest designed ever. Our designing experts will design UI and make sure UI will be most customer-centric. We will also make several tests for user engagement after preparing several designs for your project. We always willing to lead you on the right path with a best suitable designing solution ever.
Explore Our Work