The secret to online success lies in web design. There is a lot to web page design that most people do not know about. This guide aims to provide you with all the information about web design guide, web page design, UI/UX design, and more.
Web design guide – All about Website Design
To keep up in the world of today, graphic designers need to brush up on key skills and learn about the latest technology and trends. It is important for those looking for web design to find a web design company.
What Is Web Design?
Web design consists of a wide range of disciplines and skills for the creation and maintenance of websites. Some of the core elements of web design include authoring, user interface design, web graphic design, user experience design, and SEO (Search Engine Optimization).
Why Is Web Design So Important?
Humans are visual creatures. We are drawn to the visual aspect of the content. If people are given two types of content such as something plain and something beautifully designed, they would prefer looking at the latter. This clearly shows just how important web design is to establish a strong online marketing presence.
To create the most effective website, it is pertinent to understand the importance of web design. The following points cover why web design is so important.
Allows you to a good first impression.
Aids with SEO strategy.
Gives an impression of your customer service.
Builds trust with your target audience.
Major competitors are investing in web design.
Creates consistency.
What Are The Stages Of Web Design?
Web design consists of various stages. These are mentioned below.
1. Empathize
The first step of web design focuses on gaining an empathetic understanding of what it is that you intend to solve. It involves working with experts to learn about the area of concern through empathizing with others.
Define the Problem
Next, web design focuses on defining the problem. The information gathered through empathizing will be put together to help you analyze and synthesize the observations to define the core problems which have been identified.
2. Ideate
The third stage is where designers work together to generate ideas to solve the problem. Only when one has understood the needs of users and analyzed them would it be possible to work out the solution. It is during this stage that the team will think outside the box to identify possible solutions.
3. Prototype
After ideas have been generated, the design team will work on creating a prototype of the best possible idea. An inexpensive version of the product will be created to identify the best possible solution going forward.
4. Test
To perfect the prototype and launch the website, the prototype will be continuously tested to improve its performance and address glitches.
How Do I Make My Website More Attractive?
The following features will help make your website more attractive.
Amazing Navigation
Responsive Design
Consistency
Visuals that Serve a Purpose
Excellent Content
CTA (Call To Action) Buttons
Fast Page Speed
How to Make Good Web Design?
This web design guide will help you to make good web design, we cover every single aspect of web design so that you do not miss out on any important aspect. Always remember that not every website is created equal. However, there are certain factors that allow you to make good web design. These are covered here so that you can boost your conversion rate.
How Do I Improve My Website Design?
There are various aspects of web design that you need to consider to improve your overall website design as mentioned below.
1. More than Website Design
There is more to website design than just the way it looks. The perfect web design focuses on offering the best user experience to visitors.
2. Develop a Clear Site Map
When it comes to website design, you cannot just wing it. You have to create a clear site map that covers every page on the website.
3. Remove Clutter
The best website is one that does not consist of anything that does not add value. This is why you need to remove clutter to give your website design a boost.
4. Consistent CTAs
To send the right message through your web design, you need to have clear and consistent CTAs.
5. Integrate Social Share Icons
To allow visitors to share your content, you need to integrate social share icons.
6. Build for Smartphones
Since there are more smartphone internet users today than ever before, you need to build the website for smartphones.
7. Use High-Quality Content
Only use high-quality content to improve your website design.
8. Keep Things Clean
Web design today is all about minimal design and white space.
9. SEO
As the main purpose of a website is to get noticed, you need to invest in SEO.
10. Create a Homepage
Finally, you need to create a homepage that functions as a stand-along landing page.
What Skills You Should Look Into A Web Designer?
A good web designer should possess the following skills.
Familiarity of various design tools including Sketch and Photoshop.
Design sense to create a good-looking website.
UX design, graphic design, and responsive design knowledge.
Knowledge of coding languages like HTML, CSS, and JavaScript, psd to html.
Time management and project management skills.
How Do I Start My Own Website Design?
To start work on your own website design, you can either hire web design company or do things on your own.
Web Design Principles for Attractive Website Design?
For attractive website design, the following web design principles are essential.
Simple is the way to go.
Consistency.
Typography and readability.
Mobile compatibility.
The right color palette.
Quick loading.
Easy to navigate.
Excellent communication.
Benefits of Professional Website Design For Businesses
Businesses need to invest in professional website design if they wish to succeed in their industry.
How Does Web Design Help Businesses?
There are many ways through which web design helps businesses. These are mentioned below.
Keep visitors on your website for a longer time.
Helps the business or brand grow consistently.
Offers a polished appearance by utilizing font selection, contrast, and colors.
Need for less investment on digital marketing.
More conversions as visitors will stay longer on your website.
Advantages of Professional Web Design
Responsive Website Design – Resizable website for all types of devices.
Single URL for SEO.
Higher ranking on Google.
Less time required for engineering.
No common mistakes to worry about.
No redirection for optimized view.
Crawling.
Benefits of SEO Friendly Web Design
SEO friendly web design offers a ton of benefits as mentioned below.
Allows you to aim for business growth.
Higher ROI (Return on Investment).
Access to recorded data.
Help you compete with major business rivals.
Increased brand awareness.
More traffic to your website.
Cost-effective.
Top Benefits of Having a Responsive Web Design for a Business Website
1. Drives Mobile Users to Your Website:
When you invest in responsive web design, your website will be able to generate more mobile users. As mobile users easily outnumber desktop users, by having responsive web design, you will get to drive those users to your website.
2. Development Cost Savings:
A responsive web design offers significant savings on development. You would no longer need to invest heavily in hosting multiple URLs and multiple codebases.
3. Increases Conversion Rate:
Another great thing about responsive websites is that it helps increase the conversion rate. A responsive website allows you to better serve customers. The look and feel of your website would remain the same on smartphones, tablets, laptops, and desktops. This boosts the conversion rate and offers you an edge.
4. Boosts Your Business by Google:
Google values websites that offer users with a clutter-free platform. It analyzes consumer behaviour which influences SEO rankings. As people are spending a lot more time on their smartphones, Google ranks mobile-friendly websites and boosts the online presence on businesses that create such websites.
5. Improved Mobile Search Engine Visibility:
SEO activities influence the search engine visibility of business websites. They impact how the website appears on Google. As Google is always changing its defined criteria, only responsive website design will allow you to keep up with the trends and remain visible.
6. Develops More Revenue Streams:
Responsive websites offer a great deal of flexibility which helps boost visibility and increases conversion. Consumer-friendly websites stand out in the crowd and help you generate more revenue streams.
7. Enhances Social Media Coverage:
As mobile activity is responsible for over half the total social media activity, a responsive website will benefit from enhanced social media coverage.
8. Generates Quality Backlinks to Your Website:
Finally, a responsive web design helps increase quality backlinks to your website. This helps increase your online presence.
Why Should I Hire A Professional Web Design Company For My Website?
The internet is filled with over a billion websites. If you want to get noticed, you need to put in more effort. This is why it makes sense to hire a professional web design company to create the perfect website. No matter how much effort you put into creating the website, you will be unable to achieve the results offered by a professional web design company. The following reasons will open your mind to just how important it is to hire professionals.
1. The Website Represents Your Brand:
The business website should never be an afterthought. It represents your brand and everything you stand for. The website is the first thing that people look at and the appearance of your website influences how they perceive your brand. Only a professional website created by a web design company will be able to make a good impression on customers.
2. Allow You to Spend More Time on Your Core Competencies:
Developing, designing, and maintaining the business website can be extremely difficult and time consuming, especially considering the fact that web design is ever-evolving. To ensure that you have more time to focus on running the business, it is best that you seek a web design expert to help you out.
3. Get Ahead of Competition:
The truth is that many small businesses fail to realize the importance of developing an online presence. To get ahead of the competition, all you need to do is hire an experienced web designer to create an amazing website for your business.
4. Increased Online Traffic:
When you have a professional website, people will be more likely to find your website when searching for something relevant. This will help increase your online traffic.
5. Improved Visibility, Branding, and Marketing:
To beat the competition, you need to invest in creating a professional website as it helps improve your visibility, branding, and marketing.
What Are The Benefits Of Hiring A Web Design Company?
There are many benefits to hiring a web design company. The following benefits best highlight the importance of hiring professionals for the job.
1. Creation of High Quality Site:
One of the main benefits of hiring a web design company is that you get to create a high quality website for your business. It means that the website will consist of several features like codes, plug-ins, headers, images, and more.
2. Online Strategy:
Professional web designers will help prepare an online strategy to achieve all your business goals.
3. Responsive Design:
Creating a website that has a responsive design is not an easy task. Only an expert will be able to create such a website.
4. SEO – Search Engine Optimization:
To improve your online performance, you need to focus on SEO. A web design company will leverage SEO to boost your rankings and more.
5. Provide Competitive Advantage:
Hiring a website designer will provide you with a competitive advantage over other businesses.
What To Consider When Hiring a Professional Web Designer?
To hire a professional web designer, you need to consider the following.
Area of expertise.
Variety of services offered.
Previous work and experience.
Talent.
Personality.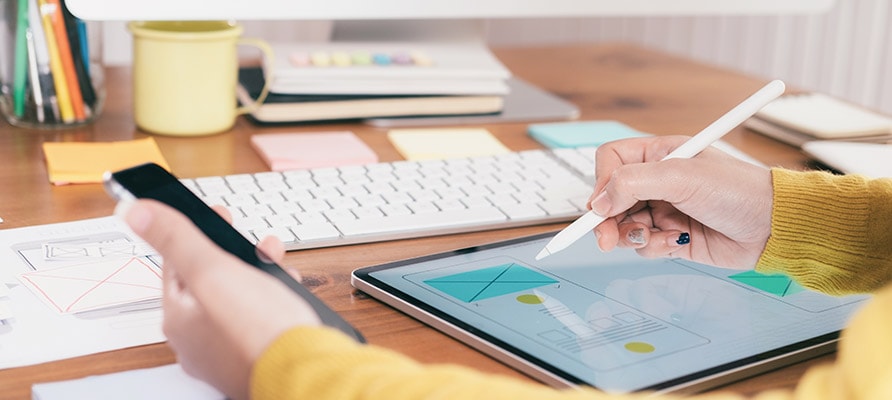 Things to Consider While Designing a Professional Website
Web design guide to design a professional website, we share the best insights.
What Is The Most Important Thing In Website Design?
1. Domain and Host:
The first thing that you need to consider is a great domain name that is almost impossible to misspell and leverages SEO. Next, you need to ensure that you choose the right hosting package.
2. Clean Design:
Another important thing in website design is a clean design. Everyone loves a clean and appealing design. It should also offer intuitive navigation.
3. Effective Color Scheme:
To evoke the desired emotional response from visitors, you need to develop an effective color scheme.
4. Branding:
Make sure to convey your brand in the right manner.
5. Content:
This is the backbone of your website. Not only does your content play an important role in your search engine placement, but it is also the reason why most visitors search your website. The text of your website should be informative, easy to read, and comprehensive..
6. Navigation:
Website design should be easy to navigate and menu items should be easily accessible from every page. Viewers should always know exactly where they are on the website and also have easy access to where they would like to be.
7. Usability:
Websites which are easy to use will generate more traffic and visitors will be more likely to visit again.
8. CTAs:
The purpose of website design is to place the right CTAs to achieve the desired outcome.
9. Short Loading Time:
The website design needs to work towards ensuring that users do not have to wait a long time for the site to load. The loading time should be not more than two seconds.
How Can I Make My Website Look Professional?
It is possible to make your website look professional by utilizing the following tips.
Solid Layout:
Having a solid layout will instantly make your website look professional.
Effective Typography:
Typography plays a huge role in conveying the message. This is why you need to use effective typography to convey to your target audience that you are professional.
Use the Right Color Scheme:
As colors influence behavior, you need to use the right color scheme to achieve the desired goals.
Appropriate Design Elements:
From consistency in action to less content, use appropriate design elements for the best results.
What Are The Basic Elements Of A Quality Web Design?
The following basic elements make for quality web design.
The right background and font.
Use of favicons.
Placement of images.
Simplicity to generate interest.
The right color scheme to represent the brand and convey the desired message.
Optimization for small screens.
We hope this article has helped you better understand the basics of web design guide. The user experience should be at the forefront of your design priority, as your users will ultimately be the ones that decide if your website is worth visiting. Ask yourself the main feature of your website and choose a website developer that will ensure that those needs are met. It is important to keep a balance between your text, graphics, media, and color scheme to avoid an overly stimulating website away from the messages you are trying to convey.
Hopefully, now you've mastered the basics of website design, be sure to check out our other posts to get more about the website builder types, web design trends, design elements, and more.
Looking for rockstar Web Design Agency?
With over 10 years of extensive experience, we're one of the Australia's leading Web Design agency.
Checkout Web Design Services